---
| | | | | | | | |
| --- | --- | --- | --- | --- | --- | --- | --- |
| Boroondara City Council | Bellevue Ward | | | | | MILES, Brad | |
| | Cotham Ward | | | | | BLOOM, David | |
| | Gardiner Ward | | | | | ROSS, Coral | |
| | Glenferrie Ward | | | | | MEGGS, Phil | |
| | Junction Ward | | | | | WEGMAN, Jack | |
| | Lynden Ward | | | | | KREUTZ, Heinz | |
| | Maling Ward | | | | | MENTING, Dick | |
| | Maranoa Ward | | | | | TRAGAS, Nicholas | |
| | Solway Ward | | | | | CHOW, Kevin | |
| | Studley Ward | | | | | HEALEY, Phillip Anthony | |
Congratulations to all of Boroondara's new Councillors:-)
Click here for details

---
Tuesday 25th November 2008

Disabled at risk
---

Thursday 13th November 2008
On this day 5 years ago the Bracks Government
suddenly seized control of the Kew Cottages redevelopment, and
cancelled Third-Part Appeal Rights


Danger... Guided Democracy @ Work


Think Global..


(

Think Economic Meltdown...

)
(

Victoria's Public Health System in crisis..)




(Victoria's Disability System in disarray...)




Act Local..



It's local election time again in
"Marvellous Melbourne"
AND
Unlike in the USA


Voting is Compulsory


So if you are enrolled make sure you


"Vote Early & Vote Often..."


(ie: at least once in every four years.. :-)

Boroondara Election Links
Our How To Vote Card for Carers
(Please pass it on..)



The Deadline -

For your vote to count, it must be received by the Returning Officer by

6.00 pm on Friday, 28 November 2008

.

You can post your ballot paper and ballot paper envelope in the reply paid envelope provided, or deliver it in person to:


Hawthorn Town Hall, Hawthorn Room, 1st Fl/360 Burwood Road, Hawthorn
9.00 am - 5.00 pm weekdays plus 9.00 am - 8.00 pm on Thursday, 27 November and 9.00 am - 6.00 pm on Friday, 28 November
---
Friday 7th November 2008

Burke charged with Corruption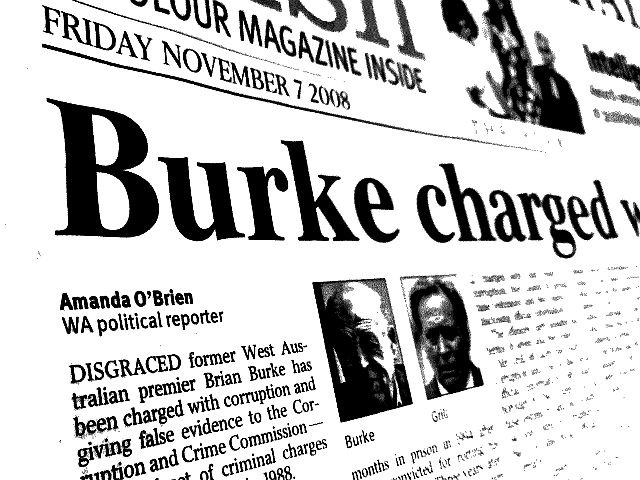 Graham Richardson's protege is back in the news...
DISGRACED former West Australian premier Brian Burke has been charged with corruption and giving false evidence to the
Corruption and Crime Commission....
---

Thursday 23rd October 2008


The Melbourne Age Editorial
Contriving a conflict where none has gone before
"... a bill before the State parliament has taken the long battle between Spring Street and Victoria's town halls to a new level.. the effect of this legislation can only be to deter community activists from seeking election..."
---
Saturday 19th October 2008

Writes
Michael Bachelard in The Melbourne Age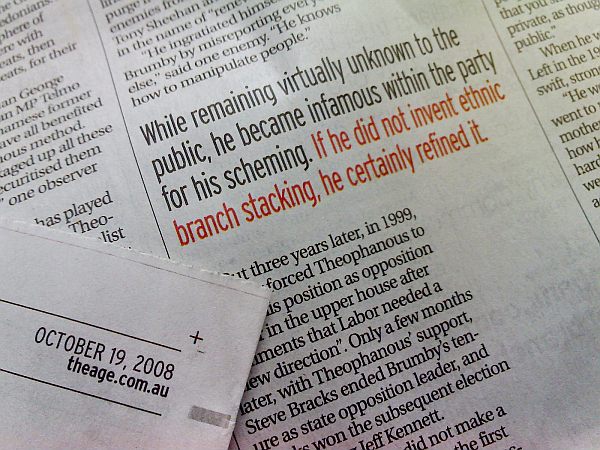 ---
Tuesday 16th September 2008

Kew Plan under fire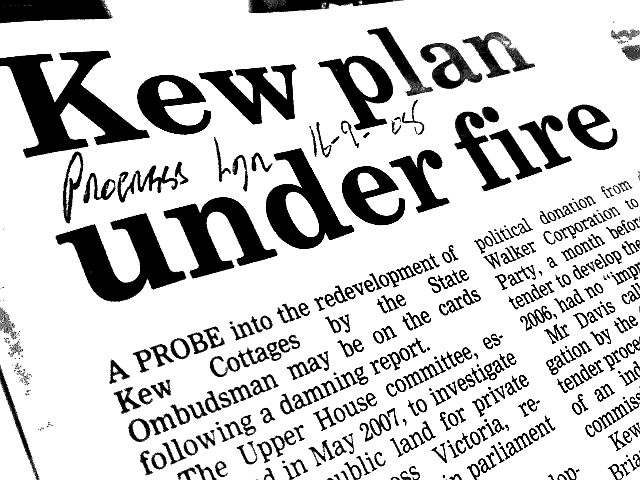 ---
Friday 12th September 2008
Nick Higginbottom writes


AN all-party parliamentary committee has blasted the Brumby Government's handling of development of public land.
And the committee wants an independent anti-corruption commission set up...
---
Monday 7th July 2008
---
Monday 7th July 2008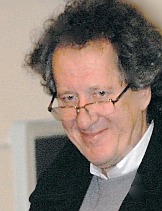 OSCAR-winning actor Geoffrey Rush yesterday challenged the Brumby Government to create satellite cities to cope with Melbourne's booming population.
Rush said "building out or up" had been the only options offered by the Government, creating a minefield of planning disasters.
"It just seems odd to me that on a continent so big that we have most of our population areas clinging just to the coast," he said.

Click here to read
Geraldine Mitchell's
full article
---

Sunday 6th July 2008

Planning Minister Justin Madden apparently forgot he had been invited to the Clock Tower...
Public Meeting


So John Clarke and Brian Dawe stepped in to give him a hand at the launch of his new "
IKEA
Plan" for Kew on the

MarvellousMelbourne.org
website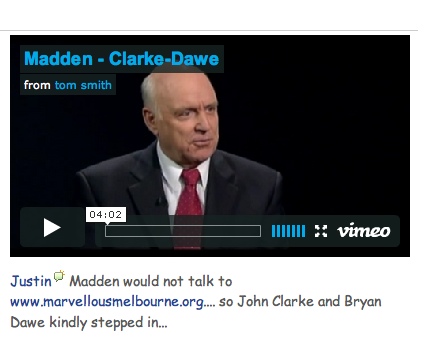 THE Brumby Government is facing a growing backlash from the suburbs as an army of resident groups battles traffic congestion and the loss of neighbourhood character caused by over-development.

Speakers inc: Geoffrey Rush, Rod Quantock (MC), Mary Drost (Convenor)
David Davis (Lib MP Chair. Public Land Inquiry) , Greg Barber (Greens, MP)

120 Resident Groups to rally - Moonee Valley Clocktower (Town Hall) Sun July 6 - 2:30
ANGRY ABOUT A PLANNING APPLICATION IN YOUR AREA??
FEELING HELPLESS??
JOIN OVER 120 RESIDENT GROUPS FROM CITY, COAST & COUNTRY TO TELL PREMIER BRUMBY & MINISTER MADDEN:


"We're mad as hell and we're not going to take this anymore."
NO! to stripping away our right to object/appeal.

NO! to stripping away council's planning powers.
Public Meeting at the Clocktower (Town Hall)
750 Mt Alexander Rd. Moonee Valley
Melway Ref.28 J6 Tram 59 ..Airport West from Elizabeth St.
Broadmeadows Train to Moonee Ponds (Sundays for seniors)
SUNDAY 6TH JULY 2.30-4.00pm
Minister Madden has been invited.
WILL HE COME?

---
June 2008
---
Monday 30th June 2008

Kew Cottages Coalition proposal for KRS Site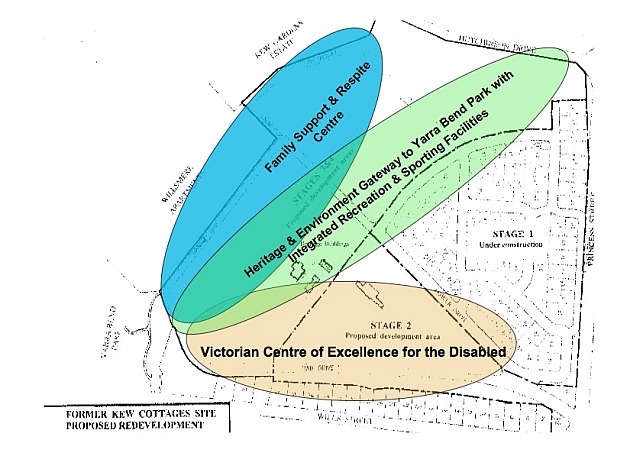 KCC President, Brian Walsh, and Dr. Lindsay Grayson appear before the Select Committee on Public Land Development to present the Coalition's proposal for the future of the site.


(
More
..)
---
Friday 20th June 2008


Heritage tree damage costs developer $150,000
Steve Butcher writes in The Melbourne Age
INCOMPETENCE by the company re-developing the former Kew Cottages site has cost it more than $150,000 after five heritage-listed trees were endangered during works....(more..)

---
Friday 13th June 2008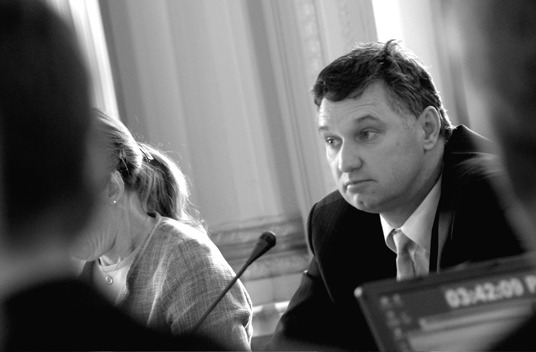 Madden can't recall signing
From: Herald Sun
PLANNING Minister Justin Madden was forced on to the back foot in Parliament yesterday when he couldn't remember if he'd signed off on stage two of the controversial Kew Cottages redevelopment.
Democratic Labor Party MP Peter Kavanagh refreshed Mr Madden's memory during Upper House Question Time, saying the minister had told Parliament on May 27 he was almost certain he had not given approval.
Mr Madden yesterday responded "I don't pretend to remember all those (documents) that come before me" and said he would take the question on notice.
Click here to read the full article on the Herald Sun website

---
Wednesday 11th June 2008
Select Committee on Public Land Development
The Committee tabled its Second Interim Report
(109Kb)

CHAIR'S FOREWORD
....The new evidence received on key sites are highlighted in this second interim report,
including the Kew Residential Development, a proposed development on the Port
Campbell headlands, the continued alienation of public land within the Caulfield
Racecourse Reserve, and the St Kilda Triangle development.
With respect to Kew Residential Services, serious concerns have arisen about the
process and the outcome of this development. The Committee's second interim
report again highlights the determination of the Deputy Premier to prevent scrutiny
and deny the Committee full access to critical Government documents in relation to
this development...."

David Davis MLC
Chairman

The Legislative Council agreed to extend the Committee's reporting date until 11 September 2008
***

---

Wednesday 28th May 2008
Brumby Must

Establish "Anti-Corruption Commission" -

Before

it is Too Late !
Brian Walsh, President, Kew Cottages Coalition today called on Premier John Brumby to personally intervene in the Kew Cottages development debacle, and to fast-track the establishment of an Anti-Corruption Commission in Victoria.
Mr Walsh said, "The writing is now on the wall for everyone to read. Bracks really dragged the chain compared to the other States when it came to trying to solve the problem of political corruption. And the question now has to be asked - why ? "
---
Friday 23rd May 2008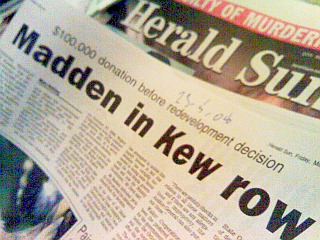 Mary Bolling writes in the Herald Sun....
PLANNING Minister Justin Madden has denied knowledge of a developer's $100,000 political donation to his party, only a month before the developer won the contract for the $400 million Kew Cottages project...


Mr Madden, facing questions from the Select Committee on Public Land Development, said yesterday he was Commonwealth Games minister when the controversial Kew decision was made -- and he ignored who made political donations to his party, anyway.
Committee chairman and Liberal MP David Davis said Kew Cottages site developer Walker Corporation made the $100,000 donation to the Victorian Labor Party on September 4, 2006.
(More..)
---
Thursday 22nd May 2008


Kew site contract linked to donation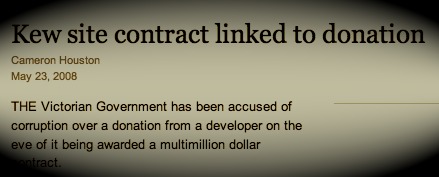 Click here for Cameron Houston's full story from


Ministers Madden & Theophanous appear before the
Select Committee into Public Land Development.


---
***

---
Monday 28th April 2008
Kew Cottages Coalition makes its preliminary submission

P12879
Unclear and Unsafe.

to Heritage Victoria on Walker Corporation's Application P12879 for a Stage 2 Heritage Permit.

---
Monday 14th April 2008

Heritage Victoria undertakes to investigate the delay in
Walker Corporation's
advertising of its Stage 2 Heritage Permit Application.
Heritage Victoria then announces it is extending its

Deadline for public submissions to
28th April 2008.
---

Friday 11th April 2008


---
Friday 11th April 2008

The Stage 2 Incident

Wednesday 2nd April 2008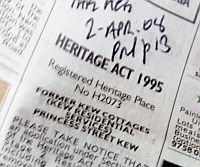 ---
Thursday 13th March 2008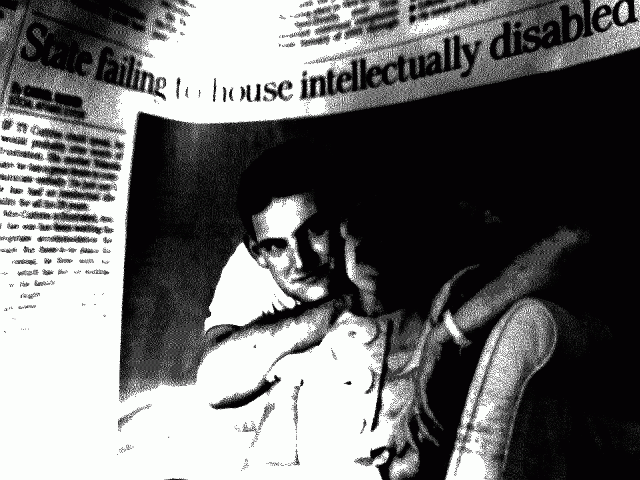 Carol Nader, The Melbourne Age, p2, 13th March 2008


It's official.....
"Damning report into disability accommodation"
Herald Sun 13th March 2008
The State of Victoria in Australia
is failing to house the intellectually disabled.


BUT WHY ?



---
Saturday 1st March 2008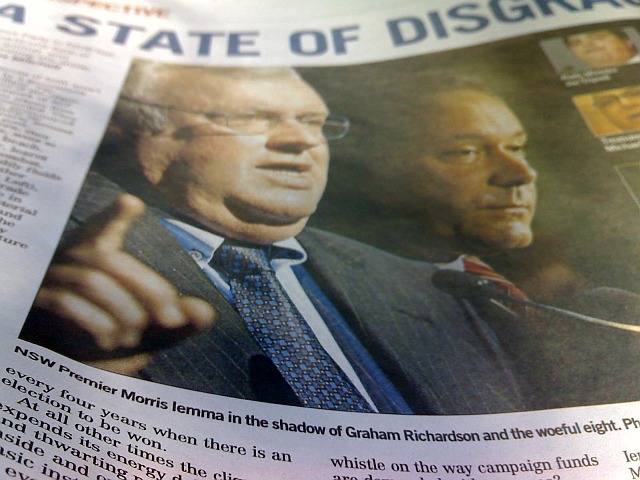 The Australian Financial Review's 'A State of Disgrace' story highlights Walker Corporation and Mirvac lobbyist Graham Richardson's continuing role in NSW politics... >>
---
***
---
Monday 25th February 2008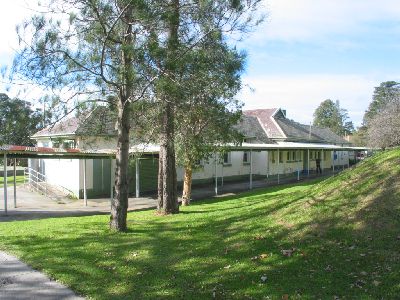 giving your closest possible personal attention to the Walker Stage 2 Permit and subdivision application;
ensuring a fair, open, and transparent assessment process;
investigating the three matters, detailed below, regarding what appears at face value to be:
---
The Age
Friday 22nd February 2008
"Paying the price"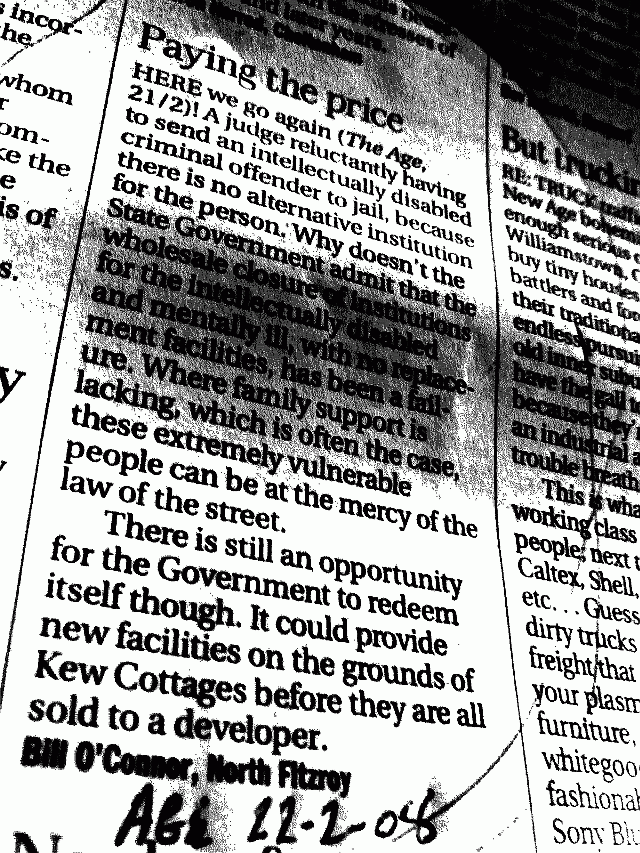 ---

FINANCIAL REVIEW

Saturday 16th February 2008
".. Mirvac forgets its Ps and Kews"