STOP PRESS
*
7pm Thursday 2nd November 2017
KEW PUBLIC MEETING
Important Information Update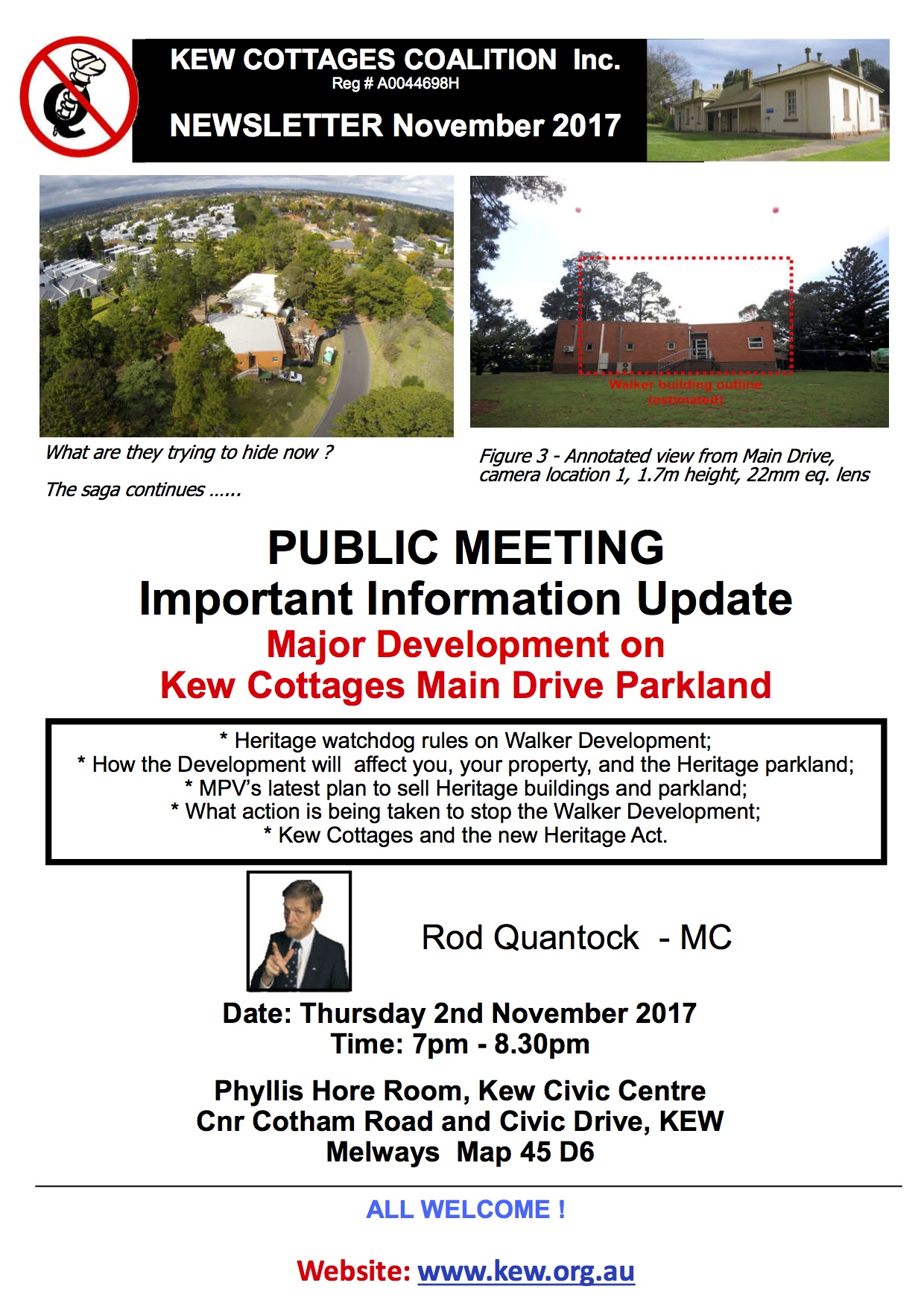 Melways
Map
45 D6
***

Download Nov 2017 Newsletter Print Version here
---
Wednesday 25th October 2017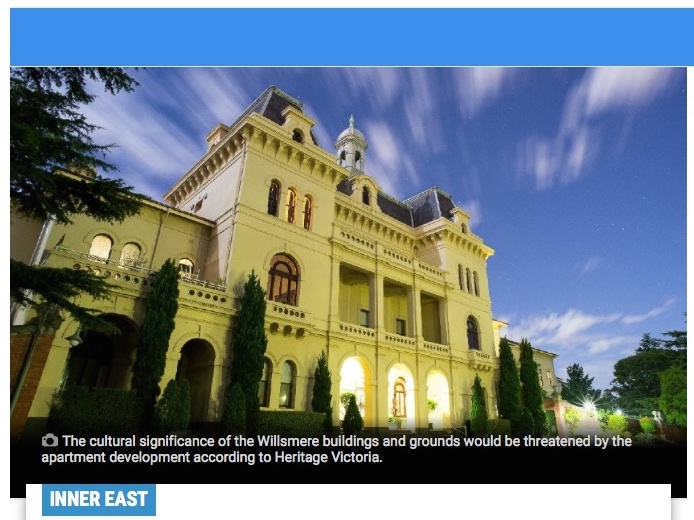 Heritage Victoria stands firm against apartment development on Kew Cottages ground

Paula Maud

Read More >>
---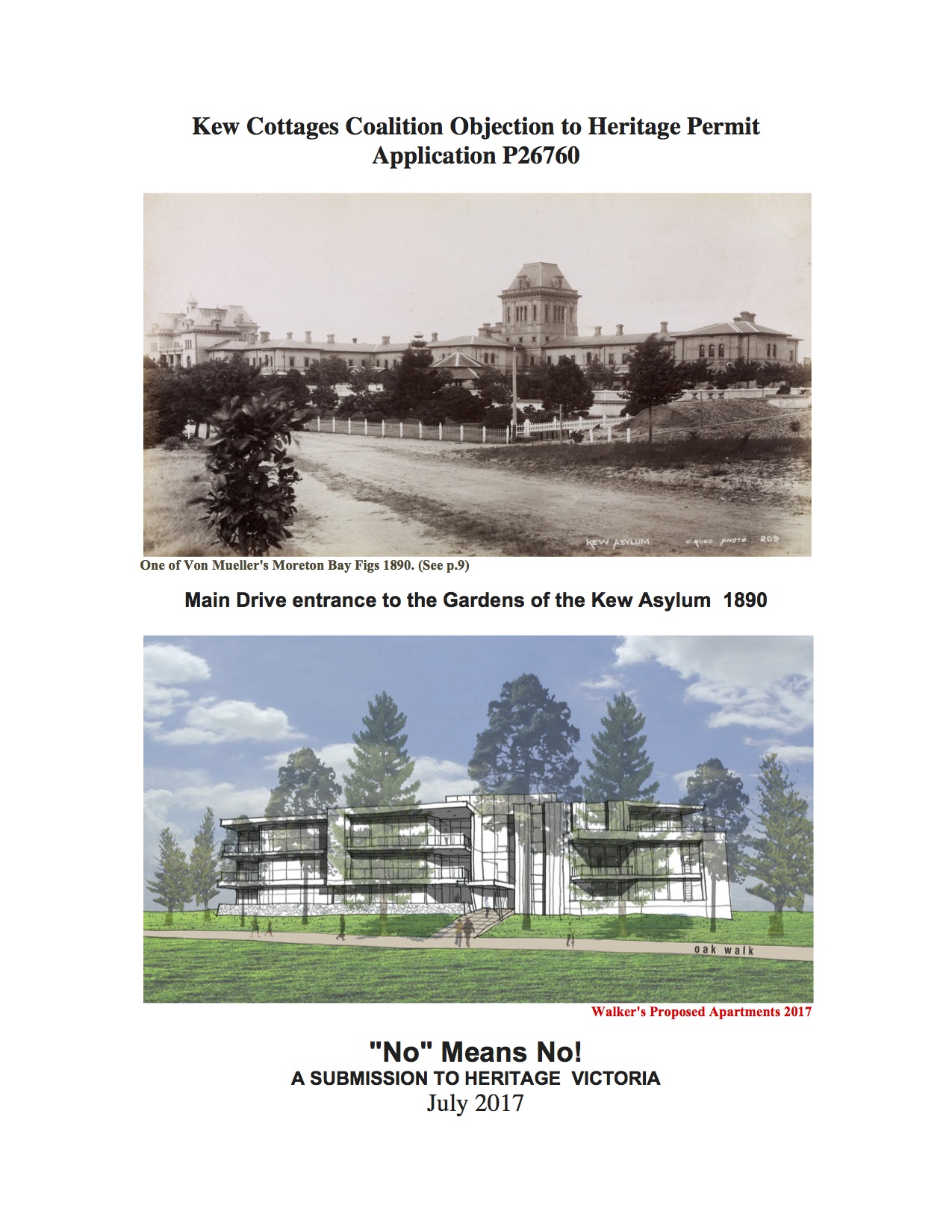 Download Print Version:
"No" Means No !
---
Sunday 19th March 2017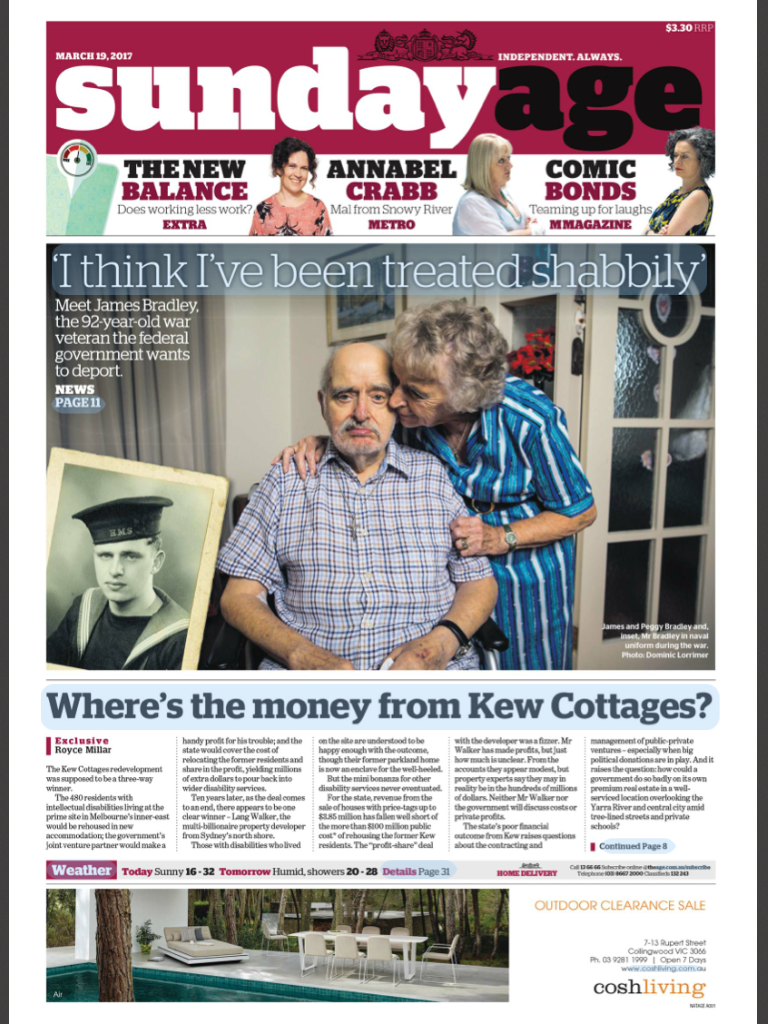 Hundreds of millions unaccounted for from Kew Cottages
Exclusive
Royce Millar
Read More >>
---
Thursday 23rd February 2017
Motion carried Unanimously
---
*
7pm Thursday 23rd February 2017
KEW PUBLIC MEETING
Important Information Update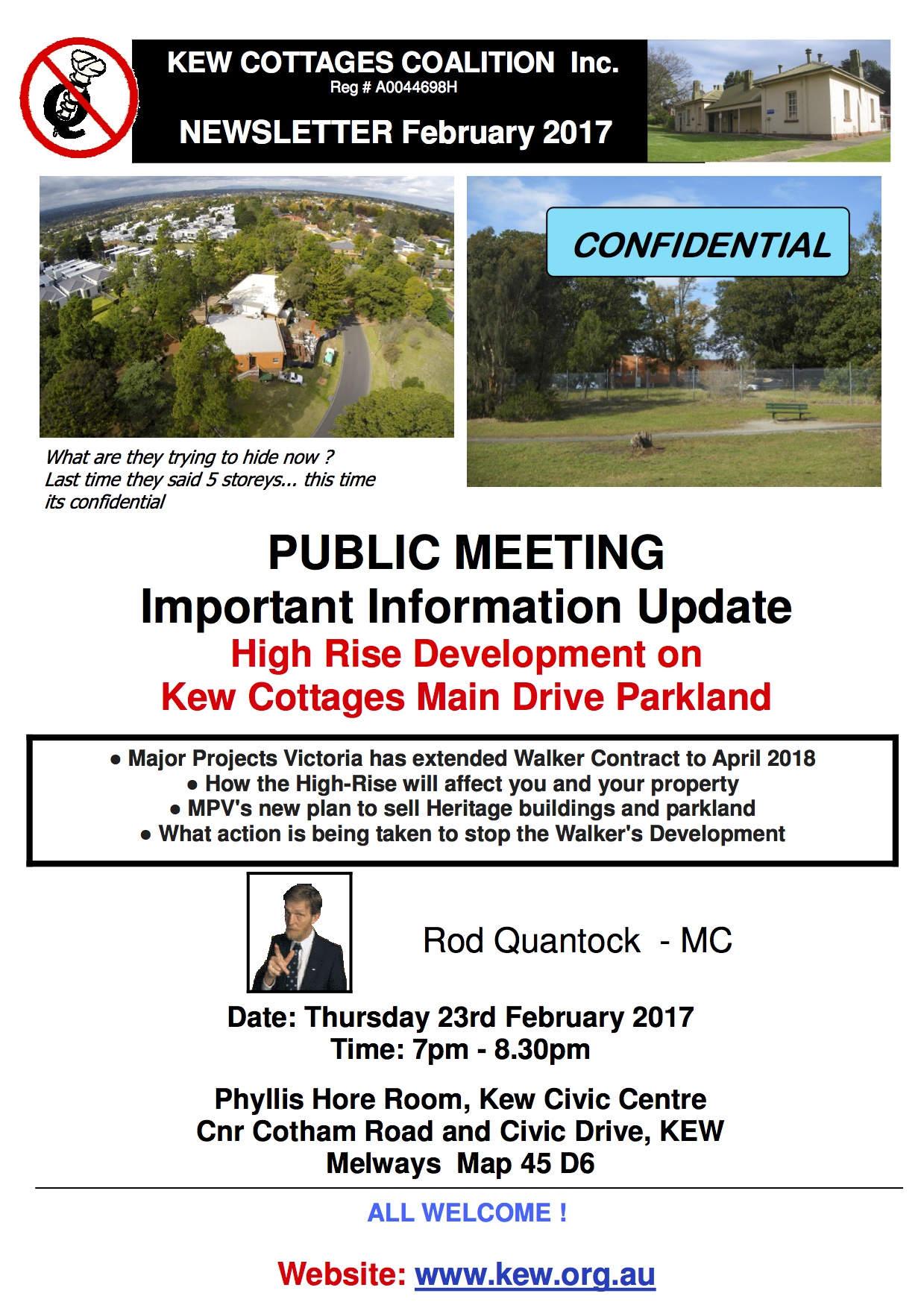 ***

Download Feb 2017 Newsletter Print Version here
====
---
Friday 9th December 2016
Major Projects Victoria revives Walker Contract
like a
phoenix
rising from the ashes...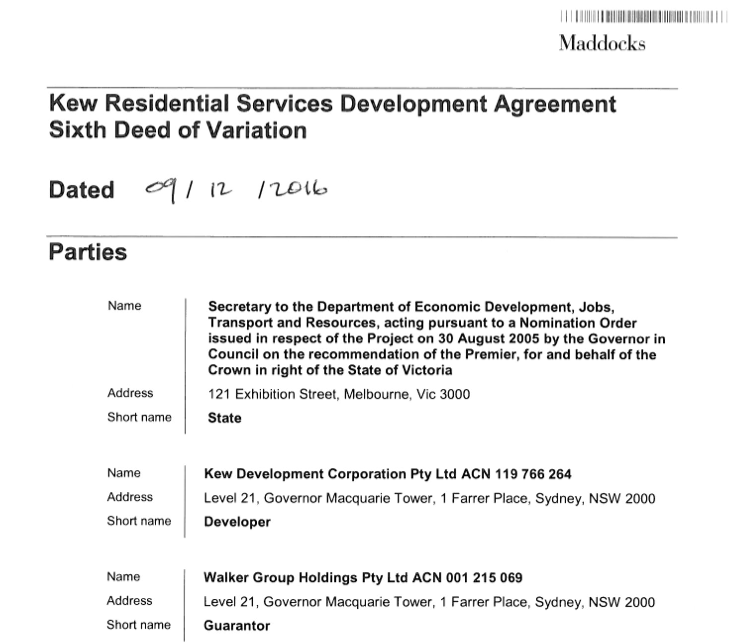 Link:
Victorian Government Contract Publishing System Website (CPS)
---
Thursday 10th November 2016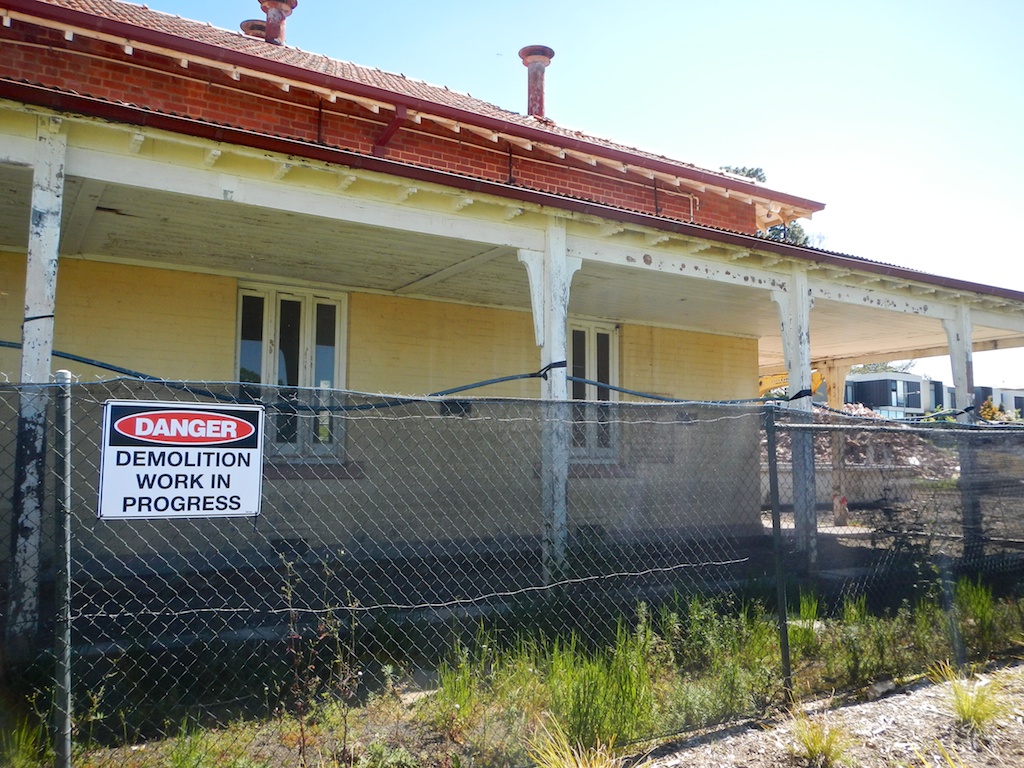 Heritage and public get raw deal in development rush
Jefferson Kinsman
Age - Comment
Page 22
Download Print Version
here
---
Thursday 27th October 2016
Walker contract Expires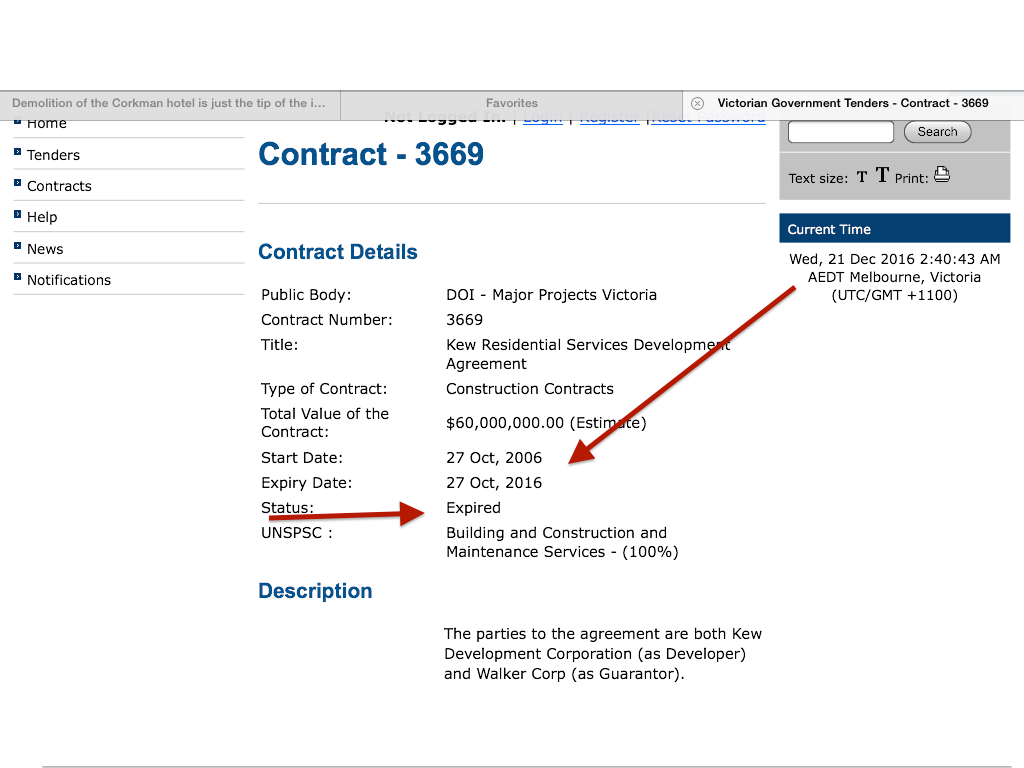 1. Major Projects Victoria Contract Number 3669 as accessed CPS website Wed 21 Dec 2016
2. As currently published. See:
Victorian Government Contract Publishing System Website (CPS)
---


Tuesday 10th May 2016
Developer pulls Kew Appeal
FIVE-STOREY APARTMENT BLOCK NO LONGER ON THE CARDS


Greg Gliddon
Progress Leader
Download Print Version
here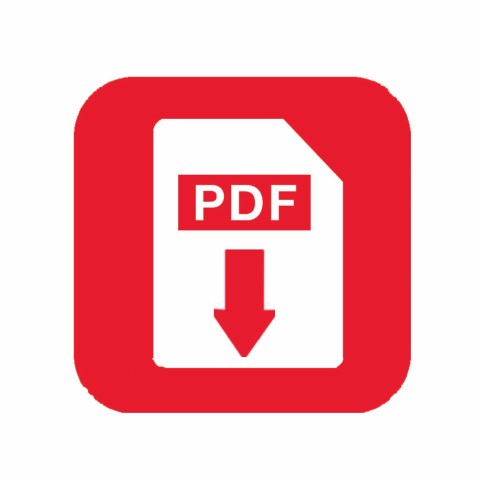 ---
---
Wednesday 24th February 2016
"

This Meeting calls on the

Andrews

Government to direct Walker Corporation to withdraw its application for the Heritage Council to be reconstituted.

"



Summary of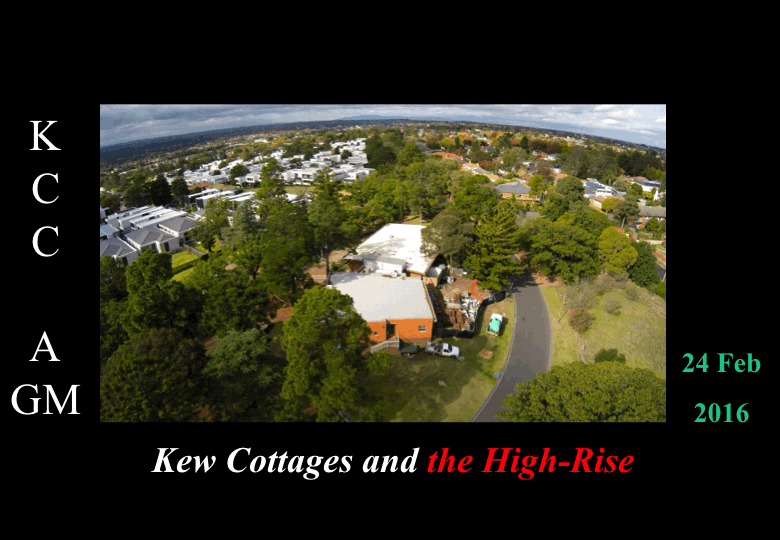 Presentatio

ns
>>
President and Treasurer's Reports
Vice-President's Report

KCC Balloon Assisted
Walker Building Visualisation
Power Point Slides
(Download)
---
You are Cordially Invited to our Annual Public Meeting
at the Kew Civic Centre
KEW PUBLIC MEETING
7pm Wednesday 24th February 2016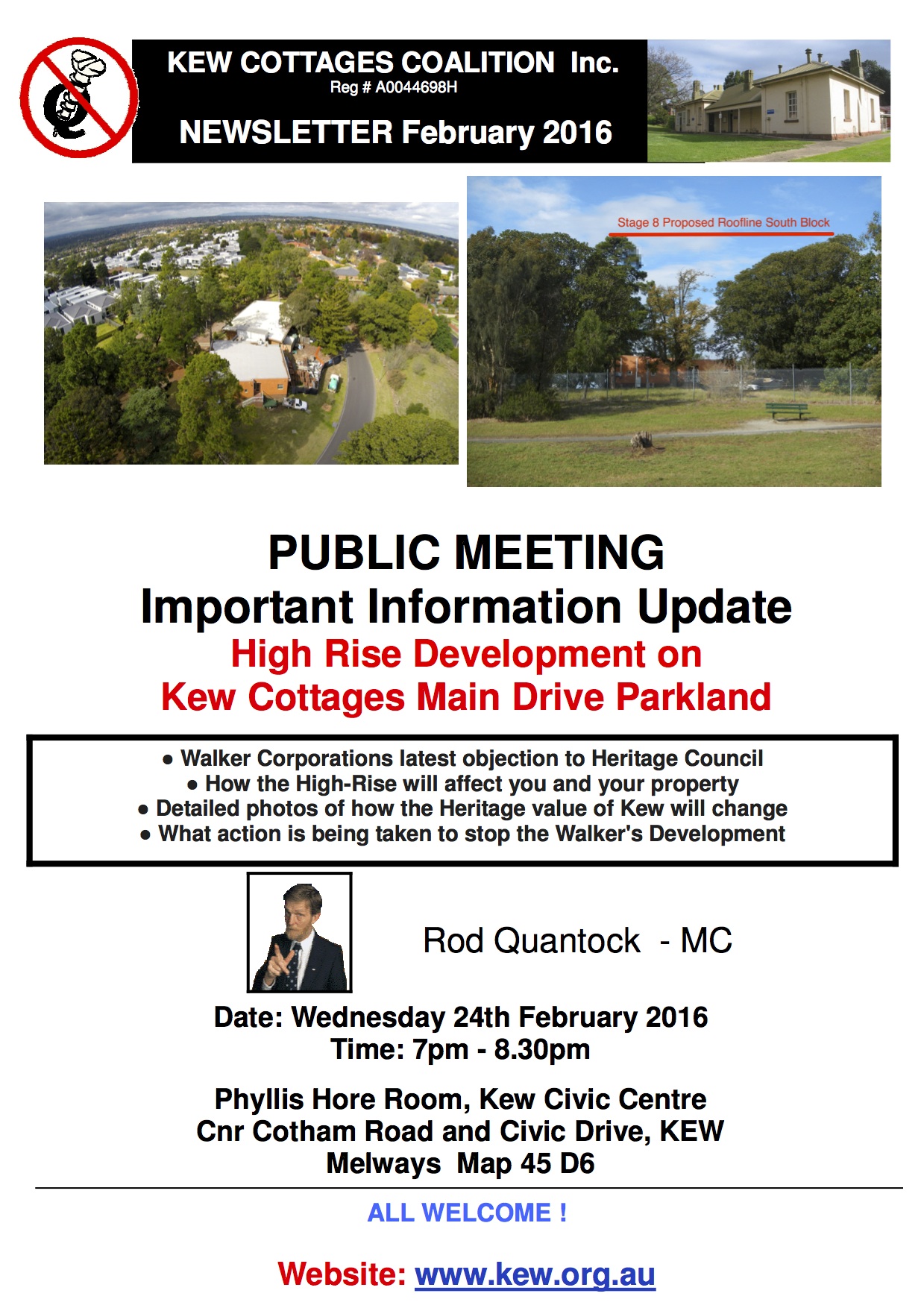 ***

---
Monday 15th February 2016

Walker Corporation/Kew Development Corporation
have submitted an Application
for the Heritage Council to be Reconstituted.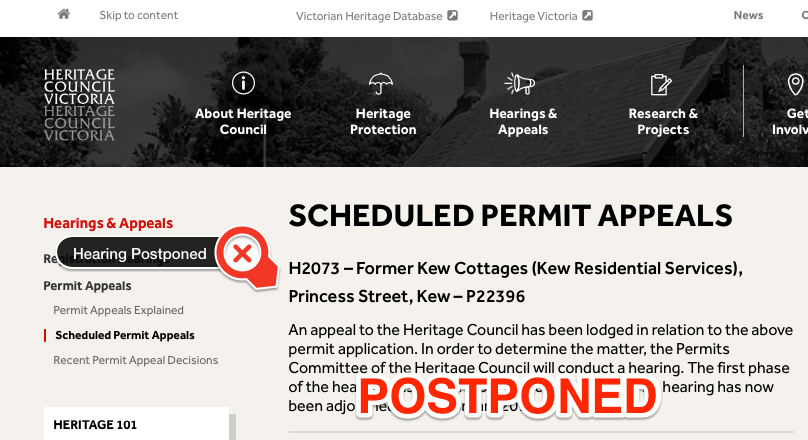 ---
---


M
onday 8th February 2016
Community Opposition grows to High Rise in Park Plan
and
Can you Recognise where Walker's photo has been taken From ?


So we have undertaken a small 'Test and Demonstration' Project to present to the Heritage Council at their
Public Hearing on 15th February (Details below)
This will include:
1. Balloon-Assisted Building Visualisation - to test Walker's Claims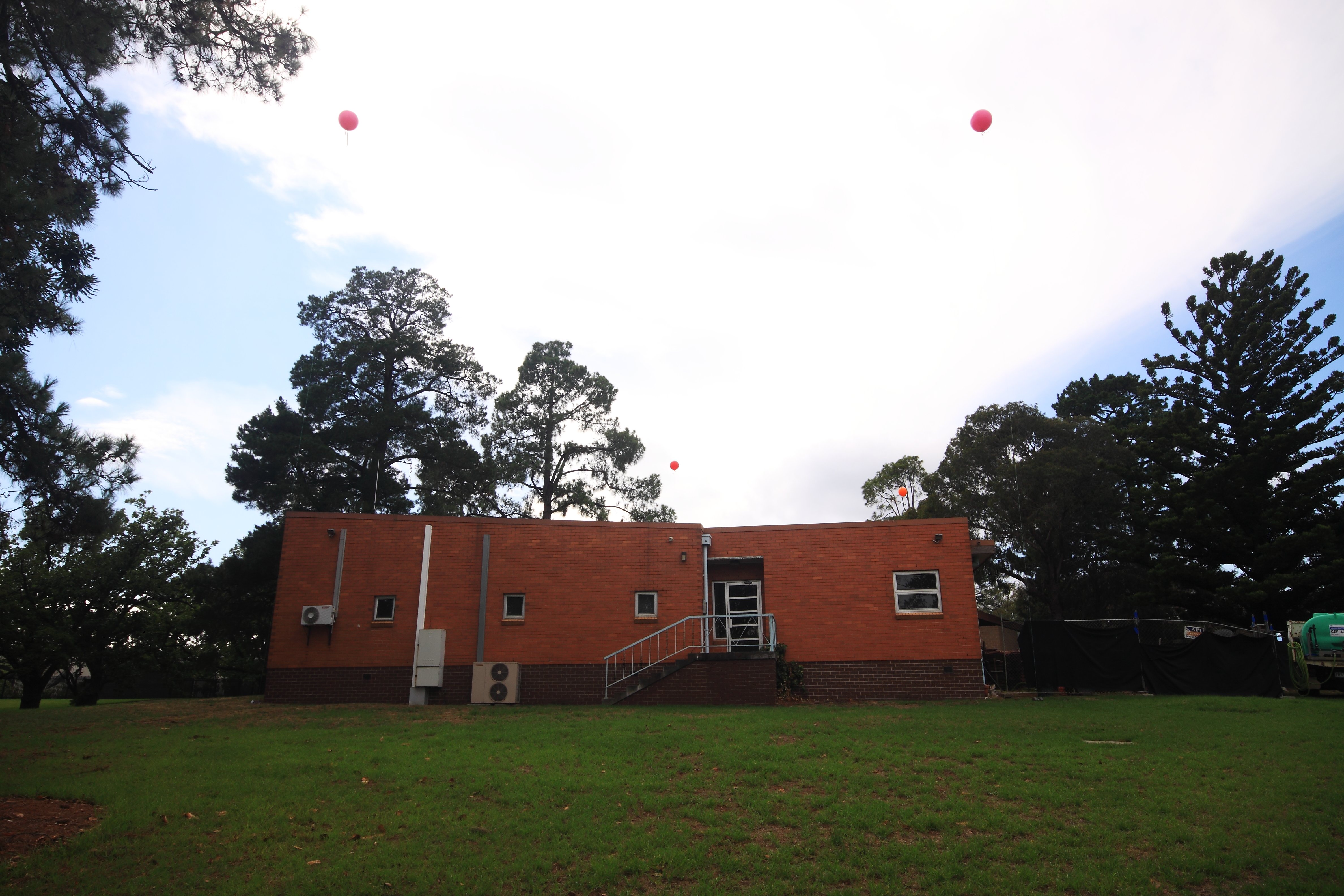 Walker wants to build High Rise Apartments blocks instead.
Our Red balloons (above) provide a 'best case' estimate of the height of the Walker Apartments.
plus
2. Drone-Assisted Visualisation of Main Drive
to help put Walker's own views into perspective.
YouTube Kew Aerial #1 Dur: 4:36 min
* Kew Cottages Coalition Drone-Assisted Main Drive Visualisation *
Links:
Answers :
Scharp Design Pty Ltd methodology relied on by Walker is
here
.
Scharp's Studley Park camera location (V12AA) is
here

and for a closer view of the planned site
See Google Maps Streetview link to Main Drive, Kew below
We would value your feedback.
Heritage Council
Public Hearing
The Walker Appeal Hearing has been adjourned until
Date: Monday 15 February 2016

Time: 9.30am
Venue:
Planning Panels Rooms
Ground Floor
1 Spring Street,
Melbourne
---
M
onday 7th December 2015
Kew Cottages Battle goes to
the
Heritage Council
Public Hearing
All Wel

come
Date: Thursday 10 December
and
Friday 11 December 2015
Time: 9.30am
Venue: Royal Australian College of Surgeons,
250-290 Spring Street,
East Melbourne
Map
For further information contact
Heritage Council of Victoria
Tel: (03) 9208 3666
Email: heritage.council@delwp.vic.gov.au
You can f
ollow all the Kew Cottages Coalition Links for the Public Hearing using the links below

***

**

Links:
Walk the site with Google Streetview

Read the Submissions to the Heritage Council
Smile at the Sydney Developer's Photos of Willsmere (Magnifying Glass Required-:)
Dig into all the Documents -:(
---
---
Remix
---
From The Archives...


2015
2014
2013
2012


Monday 20th February 2012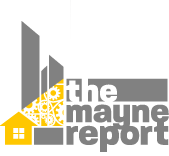 Read the
Full Edition
>>
Link: http://www.maynereport.com/articles/2012/02/18-1643-8209.html
---
---
---
Remix
---
The Baillieu Government promised Disabled a real Alternative at Kew
BUT
Failed to Deliver...
| | |
| --- | --- |
| Promise | Performance |
| Lift the veil of secrecy on Kew Development Contract arrangements | |
| Insist on developer fulfilling all its contractual obligations including preservation of 40% of the site as open space and | |
| Restore the recreation building that was demolished in breach of contract. (The Hamer Centre) | |
| Support the Kew Coalition 5 Point Plan* | |
| Refer Kew Cottages Development to Anti-Corruption Commission by July 2011 | Failed |
---
---
---

The Challenge for Change.
<<
2003
2004
2005
2006
2007
2008
2009
2010
2011
2012
NOW
! >>
2011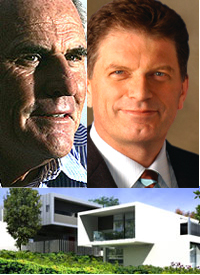 2012 The Developer's Contract
Lang Walker, Kew Development Corporation & Ted Baillieu, Premier of Victoria
It is January 2012 and it is still not too late to achieve a better outcome at Kew Cottages because the Government still owns the land...
Read More >>